Dear members,

It is my honor and a privilege to be appointed as president of the International Living Donor Liver Transplantation Group (iLDLT Group) and I appreciate the members and the council for the trust bestowed on me. I will continue the excellent achievements and endeavor of my predecessors.
The iLDLT Group was founded in 2014 with an objective of promoting global developments in and enriching the collective understanding of LDLT, through research and collaborative discourse. Since its inception, the iLDLT Group has held four successful biennial congresses, convened previously in Korea and the USA, with the most recent being in Brussel, Belgium. Despite the inconveniences caused by the COVID-19, we were still able to reach out to delegates worldwide and successfully conclude the 5th International Congress of the iLDLT Group without compromise to safety, substance and comfort. We have and shall continue to deliver more colloquiums with leading global experts as speakers. However, understanding how times continue to evolve, we likewise promise to adapt and sustain this continual learning and education through the most appropriate channels.
The iLDLT Group council, secretariat and I will continue to devote our utmost effort to the advancement of our society. Strong support and active participation from you will be our solid ground to keep building the society to play a leading role in the field of living donor liver transplantation.
I wish you and your family stay healthy and safe through this difficult time.
Thank you and stay safe.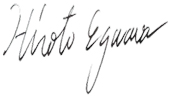 Hiroto Egawa, M.D., Ph.D.
President, iLDLT Group